Ragged Industries
Purveyors of Nonsense
What Is This Place?
Welcome to Ragged Industries. This here is our top-of-the-line website. We made it ourselves, and are very proud of it. We have been making websites for over 20 years, and we can make one for you as well, if you want us to.
Feel free to CONTACT US by emailing
thesecretary@raggedindustries.com
I Don't Want That.
What Else Can You Do?
We also have decades-long experience with illustration, animation, video production, print, and graphic design. We have designed logos, books, and even produced a long-running series of two-page advertisements in a popular local magazine.
Great. But What Have
You Done Lately?
Well, I'm glad you asked that. It just so happens that Ragged Industries has recently launched the publishing branch of our fine company.
So far, we have only published one product – a work that manages to be fine art piece, poignant social satire, and juvenile potty humor all at once.
Without further ado, I hereby present to you...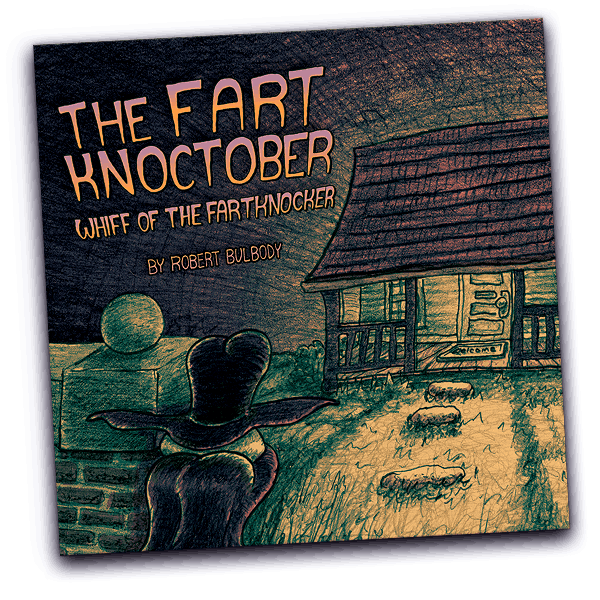 The Fart Knoctober
Whiff of The Fartknocker
Filled with mystery, humor, suspense, and nonsense, this epic comic thriller follows the story of a boring man named Robert Bulbody who finds himself haunted by the paranormal hijinks of a magical misfit wizard named The Fartknocker. Using his dark fart arts magic, The Fartknocker sparks Robert's personal transformation from mild-mannered into vigilante.
The Fartknocker, an urban legend...
Is he just a bully? Or is there more to the story?
The Fart Knoctober is suitable for kids, young adults, and grown ups. For any weirdo with a twisted sense of humor, this comic quickie will tickle your farty bone.
Contact Us
Ragged Industries is located in an aged, low-rent facility on the outskirts of Asheville, NC. If you would like to get in touch with us, please feel free to contact us by emailing:
thesecretary@raggedindustries.com